Dental Implants Bulgaria
Prices: All-on-4 | All-on-6 | Basal Implants | Dental Implants in Bulgaria
On this page, you can find actual price list of the medical services offered by Smile Dental Services - Bulgaria. If you are interested in dental implants packages, please check our dedicated pages for full mouth и single jaw restoration.
Our clinic is one of the few in Bulgaria fully specialized in dental implants. We have extensive experience and work simultaneously with single-piece basal implants in combination with an immediate loading protocol, as well as conventional two-piece dental implants with delayed loading protocol. Which type of dental implant is best in your case we can advise after clinical examination by a medical specialist in Smile Dental Services.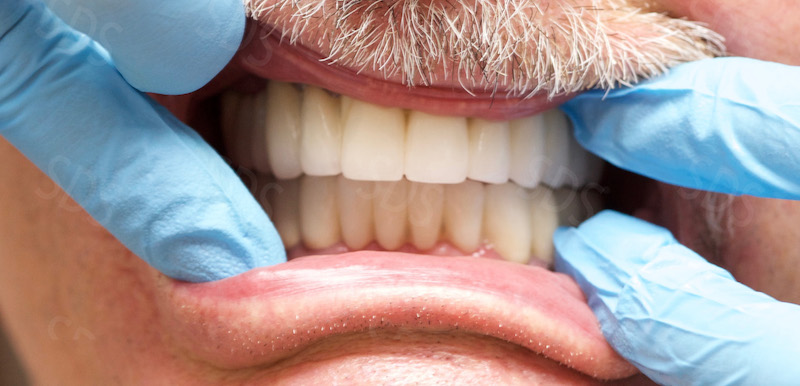 Get a Full Set of New Teeth in a Single Visit Full mouth restoration with basal implants in Bulgaria. Experienced medical staff & dental technicians, conscious IV sedation administered by qualified anesthetist, more...
Choose currency:
Treatment
Price

1. Before Treatment

Consultation + Panoramic X-Ray
Free

2. Packages

2.1 Full Mouth Restoration

(All-on-4™, All-on-6 or Better)

1st stage:

Implant Surgery + Fixed Temp Prosthetic

2nd Stage:

Fixed Final Prosthetic (Hybrid Bridges)

2.2 Single Jaw Restoration

(All-on-4™, All-on-6 or Better)

1st stage:

Implant Surgery + Fixed Temp Prosthetic

2nd Stage:

Fixed Final Prosthetic (Hybrid Bridge)

3. Dental Implants

3.1 Basal Implants - Immediate Loading Protocol

MONOIMPLANT

(Switzerland)

3.2 Conventional Implants - Delayed Loading Protocol

Straumman SLA Active Implant

(Switzerland)

I-system Novodent

(short implant)

(Switzerland)

Bredent Implant

(Germany)

Neo BioTech Implant

(South Korea)

4. Abutments

Straumman

(Switzerland)

Neo BioTech

(South Korea)

I-system Novodent

(Switzerland)

5. Dental Crowns, Veneers

Porcelain Fused to Metal (PFM) Crown

(CAD/CAM)

Zirconia Crown

(CAD/CAM)

Temporary Crown

(CAD/CAM)

Definitive Polymer Crown

(CAD/CAM)

Porcelain Veneer
Bredent - Porcelain Fused to Metal Crown

(CAD/CAM)

(for implants Bredent only, includes abutment also)

Bredent - Zirconia Crown

(CAD/CAM)

(for implants Bredent only, includes abutment also)

6. Bone Graft / Sinus Lift

Dental Work (per tooth)
Bone Graft Material (per 0.5g)

(Switzerland)

Bone Graft Membrane (per piece)

(Switzerland)

Platelet Rich Fibrin (PRF) Bone Graft Membranes (per jaw)

7. Other Treatments

Panoramic X-Ray (OPG)
Local Anesthesia
Non Surgical Extraction tooth/implant
Surgical Extraction tooth/implant
Conscious IV Sedation


(administered by qualified anesthetist, price per hour)

Consultation with other medical specialist


(cardiologist, neurologist etc..)

Root Canal
Tooth Preparation for Crown
Old Crown or Bridge Removal (Price per Unit)
Circular Bridge Cementation
Circular Bridge/Denture Re-base
Delayed Loading Implant Uncovering
White Filling
Night Guard
Teeth Whitening Upper & Lower
Teeth Cleaning
Full Denture
Partial Denture
Denture Repair
Single Jaw Restoration with Removable Denture over Implants (Overdenture)
8. Other Services
One Direction Airport Transfer
Hotel-Clinic or Clinic-Hotel Transfer
Last currency exchange update: 05 December 2023 14:53h
The implants which we are using in our clinic are high quality - Straummann, Bredent, Neo Biotech, MONO Implant, Bicon, Novodent etc. All of them are the best implants on the market!
The prices do not include any bank charges or additional transaction fees, which are borne by the patient. We accept payments with the following card types: Visa & Master Card. When paying by card, there is a 2% surcharge (our bank's fee).
Payments are made in full prior to the commencement of any treatment. We accept cash payments in BGN, EUR, GBP, USD, CAD, AUD. The clinic's base prices are in EUR.
DISCLAIMER: Please note that all given treatment time frames are indicative. Since most of the time we are able to complete your treatment in a quoted time frame, sometimes this is not possible due to unforeseen delays in the treatment or the dental lab work. Please understand, that Smile Dental Services - Bulgaria is not responsible for any additional expenses for travel, accommodation, etc., that may arise for such delays. The extent of the necessary measures in terms of surgery and treatment cannot be predicted, as this can only be determined when treatment starts. Treatment plan can be confirmed only after thorough clinical examination in Smile Dental Services clinic in Sofia. We reserve the right to make alterations for medical reasons and practicability.

Contact us for more information!
Dental care in Bulgaria and abroad
In 2022, over half a million UK citizens travelled abroad to receive dental implant treatment ranging from the simplest to the most complicated cases. Not only did they acquire top-quality service as the one they would receive in the UK (often, even better!), but it also saved them millions of pounds visiting countries like Bulgaria. Needless to say, money saved on dental care could be spent on something else, for example, a holiday in a beautiful country like Bulgaria.
Why to have my dental implants in Bulgaria?
As dental treatment is rather costly in the UK, more and more patients try to find less expensive places which do not compromise on quality. Due to present day affordable travel fares, Internet technology and important advances in medical science, dental tourism is becoming a global trend. In many cases, it is cheaper to book a flight, a hotel and pay for dental work in a foreign country, than it would be in the UK.
A lot of our patients have discovered Bulgaria as a preferred destination for any kind of medical treatment due to the high professionalism of Bulgarian doctors and dentists hired by hospitals and clinics in the UK. The growing demand in the UK for medical professionals trained in Eastern Europe is a solid proof that they are as highly qualified as their British colleagues. Bulgarian dentists are well respected for their expertise both in their own country and overseas.
Dental implants treatment costs are constantly on the rise in many Western countries. In the UK alone, dental care is already a multi-billion pounds industry making a considerable profit. But why pay high prices at home, when you can travel and to have your dental implants in Bulgaria and receive the same treatment quality, if not better!
What is a dental implant?
A dental implant is a "root" device resembling a tooth or a group of teeth used to replace missing teeth. It is usually made of titanium used in dentistry to support restorations.
Dental implants today are root-form endosseous implants, i.e. they appear similar to an actual tooth root (hence the term "root-form") and are positioned within the bone (endo- being the Greek prefix for "in" and osseous referring to "bone"). The jaw bone accepts and osseointegrates with the titanium post. The fusion of the implant surface with the surrounding bone is known as osseointegration. Although dental implants will fuse with bone, they lack the periodontal ligament and will, as a result, feel slightly different than natural teeth during chewing.
Prior to the advent of root-form endosseous implants, most implants were either blade endosseous implants (the metal piece embedded in the bone resembling a flat blade) or subperiosteal implants (a framework construction attached with screws to the exposed bone of the jaws).
What are the advantages of dental implants?
If you're considering having your dental implants abroad, you probably have tons of questions
The mouth is restored as closely as possible to its natural state.
The integrity of facial structures is preserved.
Smile is improved when replacement teeth look more like natural teeth.
Adjacent teeth are not compromised to replace missing teeth.
Overall quality of life is enhanced with replacement teeth that look, feel and function like natural teeth.
Convenient oral hygiene.
Improved appearance.
Restored self-esteem and renewed self-confidence.

Contact us for more information!